How to measure the water head and water flow
---
---
  The head of water (water head) is the vertical distance from the upstream water level to the downstream water level, or the distance the water has to fall, as shown in Figure 1.
  Measurement for Water Flow
  The water flow is the weight of water which flows through the cross-sectional area of the river per second.
  The measurement formula is as below:
  A flow rate = 1 cubic meter = 1 ton= 1000liters (water)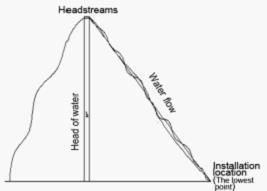 Measuring methods
  1. The best way is to use professional measuring instruments such as water meter, triangle flow measurement weir, etc.).
  2. Make the measurement on a flat section of the river. Details can be seen in Figure 2.

  Mark a point in the upstream with "A", and a "B" in a point of downstream, prepare a float( such as leaves) and a clock, then use the clock to count how many seconds the float will take to flow from A to B.
  Supposing that, the length, width and height in the cross-section of point A are 10m, 60cm and 40cm separately. And the float takes 8 seconds to flow from A to B.
  A's sectional area is: 10m*0.6m*0.4m=2.4m3=2400liters/second. (Tip: 1 m3=1000liters)
  The Water flow will be: 2.4m3÷8=0.3m3/second=300liters/second.
  3. For small stream from mountain area, a bucket or basin can be used to measure the water flow.
  After using the bucket or basin to catch water, weigh out the water, then its weight is divided by the seconds spend on catching the water, which is the water flow at last.
  Example:
  60kgs water can be caught during 3 seconds.
  The water flow will be:
  60÷3=20kgs/second=0.02m3/second=20liters/second. (Tip: 1kg=1liters)
  These three methods are just references. Different methods and repeated measurements should be considered according to different situations such as dry season and rainy periods. It is better to measure flow which is long lasting no matter in which season. After knowing the actual water head and flow, the power range of hydro turbine generator that is suitable for installation will be known.
  Calculation formula for power of hydro turbine generator unit:
  Water head * water flow * 9.81 * 0.65 (turbine efficiency) = actual installed power.
---